A Document Management System designed to help you become more productive
Managing files and documents can be in-efficient, time-consuming, and unproductive in research labs. Researchers use multiple local and networked drives with hundreds of folders and subfolders without any links back to the individual experiments or lab notebooks. LabLog solves these issues by providing a centralized Document Management System (DMS) within the ELN. All files are managed in the context of experiments and projects. This contextual file management saves a lot of time for researchers as they work on their experiments.
In this article we are going to look at the advantages of storing lab documents and files in LabLog's cloud-based lab notebook, as well as discuss why the Document Management System (DMS) in LabLog is a superior solution for laboratory researchers in academia and regulated biotech industries. As you are aware, there are some highly valid reasons for digitizing your scientific records. Paper-based documents cannot be easily searched, shared, or backed up, and it is notoriously difficult to collaborate via paper-based systems. These issues contributed to the conception of LabLog's DMS to facilitate long term file storage, easy data sharing and secure backups, intelligent search functions, and as a way to protect intellectual property by ensuring that the uploaded documents are properly dated and maintained by LabLog's automated versioning system.
Today, ELNs offer various ways to write your notes and while some platforms focus solely on note-keeping, LabLog's solutions enable you to add even more context to your notes and manage entire projects, inventories, and your lab team all from a single place on your computer. In LabLog, all files are managed in the context of experiments, projects, and teams. This contextual file storage structure saves a lot of time for researchers as they work on their research and publications. Here we describe some of the ways LabLog's Document Management System can help you become more productive and reduce waste in the lab.
Easily Access And Share Files In The Context Of Your Experiments
In the long run, finding old data from previous experiments can be tedious. This becomes even a bigger problem in labs where multiple people work the same project over many years. An ELN can be especially useful for knowledge management, by housing all of your lab's project-related files (data, notes, results) in one place; this makes it easier to browse and search through these experiments as a whole, years later. Furthermore, this would enable other colleagues to understand what has already been done on a project, so work isn't unnecessarily repeated -reducing wasted consumables.

In LabLog, all your files are automatically indexed in an ultra-secure next-generation cloud repository. This allows you to find files by name and their content. And since files are stored along with experimental notes, you can find the context in which a file is stored. This way, when you search for a particular note in your lab notebook you can also see any associated files. For example, if you have a protocol for using a qPCR machine, you can upload the documentation as a PDF file along with any additional notes related to the settings that you used for a particular experiment. Later on, your co-workers will easily be able to find the relevant configuration from your notes – improving reproducibility and reducing the wasting of precious consumables.
Sharing files in LabLog is a quick and painless process. To share a file, just click on the "Share Link" button, and then you are presented with a number of options – send a share-link to any team member, create a task and assign it to a team member, or you can even email files to your lab notebook, and emails sent to that link will appear as an attachment by you on the document. For instance, if a collaborator requests the latest version of a protocol that is being used in the lab, you can use any of the link sharing features to instantly share the file securely without waiting around for an email.
LabLog integrates with all your favorite file types
LabLog's automated version control makes it quite easy for you to edit, preview, and share your favorite file types in the cloud -PDF documents, Microsoft Office documents, plasmid files, row DNA sequencing files, and many other file types are supported in LabLog. In multi-user scenarios, co-workers may edit the same document at the same time. LabLog has robust concurrency control to make sure your edits are never lost or inadvertently overwritten by others. This functionality is achieved by the help of LabLog's DocuSync browser extension that enables you to edit any document file that you have uploaded in your Electronic Lab Notebook. It is as easy as clicking on the "Edit" menu option -everything else will be automatically taken care of for you. When you want to edit a file, you don't have to manually download, make edits, and then upload files back into LabLog, instead everyone can work on any file in LabLog and it will all be automatically synced across your team.
Since files can be shared in collaborative lab environments, LabLog implements a robust "check-in/check-out" system on all files. When you want to edit a file it will be checked out, so your colleagues will know that you are editing that file. Then nobody will be able to edit the document until it is checked back in by you. After saving your edits, the file is checked in to allow other to make edits as needed. When a co-worker wants to edit the same file, they can check it out – work on it – and check it back in. This check in/check-out system prevents multiple people overwriting each other's edits. For example, you and a co-author are working on a publication figure using Adobe Illustrator. Figure 1 of your publication has two panels (A and B). You are working on panel A and your colleague is working on Panel B. LabLog's automated synch and check-in/check-out ensures that your edits are not overwritten by your colleague as you rush to prepare the manuscript for publication.
Later on, your advisor may ask you to revert a particular change that you made to the file. LabLog makes it very easy to revert the last change back to a particular version of the file. To view the previous versions of a file and who modified those versions, click on the "Restore Version" option in the file's context menu. From there you can view all of the previous versions in an easy-to-use list. You can select a version and restore it to view the contents of that particular file. Version control also makes it easier to track the chain of custody and perform any audits for scientific publications and intellectual property protection.
Easy and secure file sharing
The file sharing and collaborations features are great for when you have multiple teams or divisions within the company, and whom all use different documents for their daily operations. LabLog makes sharing files highly effective, with the ability to quickly share links and even attach files that are directly associated with the shared document. For example, managers can provide/revoke access of certain documents to provide a filtered array of documents that are specifically used by a particular team.
Storing your data and notes in the context of distinct methods and tasks allows you to quickly find relevant information, share specific notes with coworkers, and keep uploaded files organized.
Managers are able to see daily lab activities and how their teams are performing, including graphical metrics, KPIs and a customizable performance dashboard.
DocuSync Extension for automated synch
How many file formats do you work with on a daily basis? Excel, Word, Plasmid maps, qPCR results, and Sequencing results are just a few examples. With all of these documents finding their way in different folders on your computer it can quickly become a hassle to manage. LabLog's DocuSync extension allows you to edit any file type that is stored in your ELN, while automatically taking care of multi-user scenarios and version control.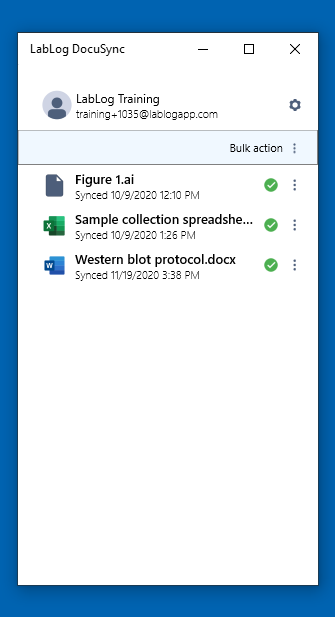 This is a unique and powerful feature that allows you to edit and view any file type that you generate in the lab. All of the important file formats that are in your daily operations, such as .docx, .xlsx, .ai files can all be managed without any need to manually upload the updated files back into LabLog – everything will automatically sync. You can actually have any file format because of LabLog's unique browser extension, which communicates with your Windows or Mac platform and syncs file edits in real-time. To get started, click on "Edit Document" on a file in your LabLog notebook and the DocuSync Extension is launched along with the appropriate desktop application for editing the selected file. Make your edits and click Save, and the new versions of the file will automatically sync back up to your lab notebook in the cloud. After you have finished making your edits, you can check the file back in to allow your co-workers to make their edits.
For example, you may be working on a manuscript and need to take the plane to a conference. You can use DocuSync to check out the manuscript file and work on it while off-line on the plane. As soon as you get to your destination, you can use the DocuSync Extension to check in the manuscript file to allow your co-workers or supervisor to edit and comment on your work. The check-in/check-out system makes sure that no one is overwriting each other's work.
LabLog offers high speed file uploads without size limits
You can upload any file type and attach it to your notes in LabLog. Upload directly from your computer or integrate with popular platforms like Dropbox and Google Drive. This make it easier to work with files while creating protocols and performing experiments in LabLog. It's easy to collaborate, share documents, and have more real-time interaction with the rest of your lab right inside each LabLog Method, Task, and even Chat Module.
LabLog does not impose any file limits -size or type. You can upload extremely large filed and because files are directly encrypted and transported to their storage location the upload speed is extremely fast. Files are stored in a secure cloud storage location hosted by Microsoft and encrypted at rest.
Security and malware protection
LabLog's Document Management System is scalable and capable of storing tons of data across a diverse set of data types including media, documents, log files, scientific data and much more. We utilize advanced techniques to identify any threats or malicious files and will protect your files from any corruption. This is especially important in an environment where multiple users may download and upload the same files.
Our mission is to keep your files secure and easily accessible. In regulated environments, the file control system ensures a log of all modifications is maintained for each file and signed files are locked to prevent further modifications.
Upload photos and videos from your smart phone
Sometimes when performing an experiment in the lab or recording data, you need to take a picture or a video. Taking pictures and videos are a great way to record data. They can also help you refresh your memory about a certain item that you used during an experiment. Attaching photos or videos to your experiments is also easy to do with LabLog. Snap a photo or take a video right from inside the LabLog mobile app. You can also upload existing files and photos. For example, you can take a quick picture of a DNA gel, or record videos of equipment operations; mobile photos are time saving and accurate.
Summary
Here we discussed some of the benefits and advanced features provided by the Document Management System in LabLog. From secure file sharing, to version control, and mobile uploads - LabLog makes it easy to work with any file type. No matter the size of the file, you can quickly store files in the context of your experiments and protocols.
If you want to learn more about LabLog's Document Management System and how it can help your lab become more efficient, click here to request a demo.
To learn more about data security in LabLog visit https://labnotebook.app/app-security