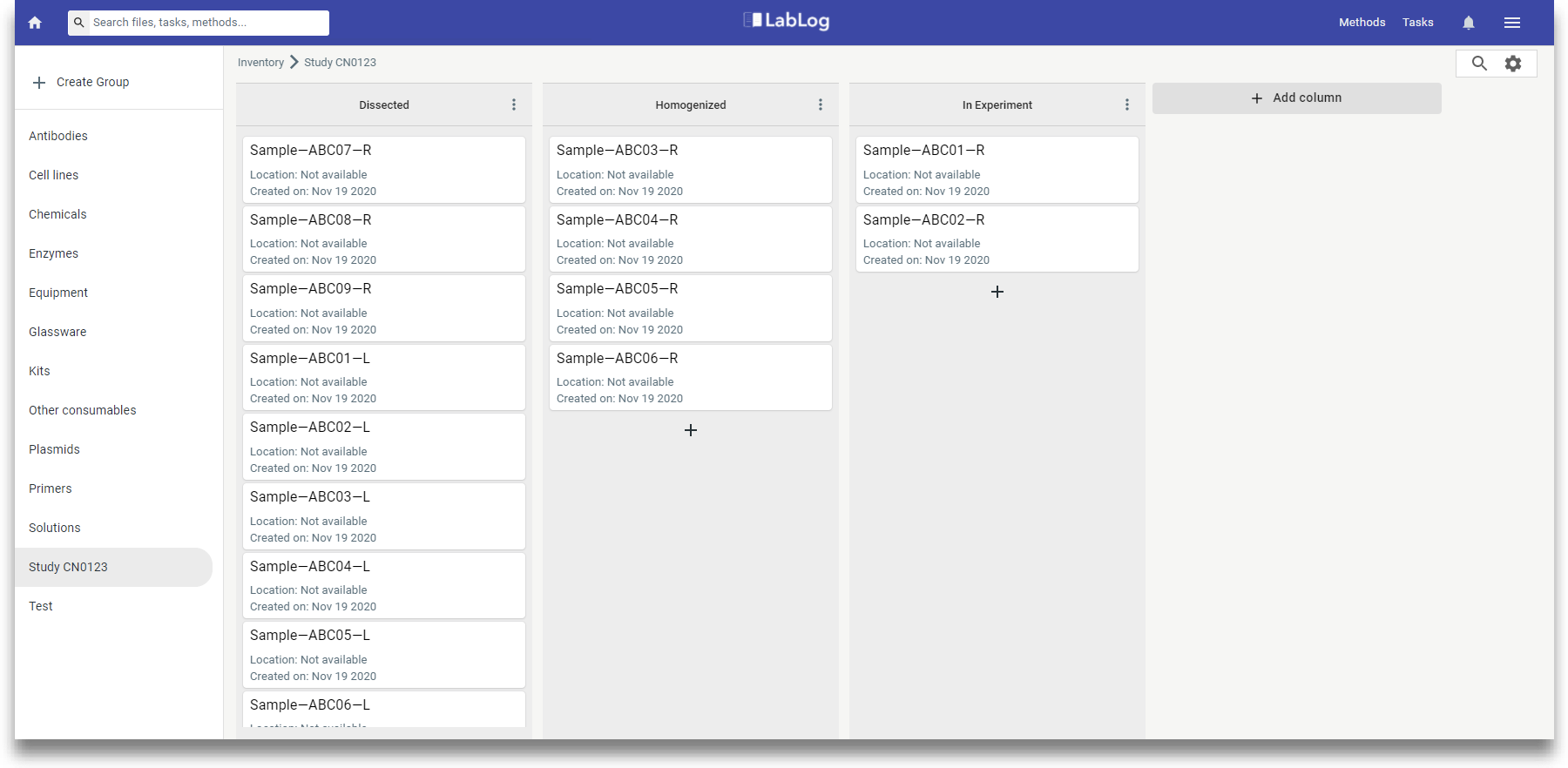 Introducing powerful new features in the Inventory Module
We are excited to announce a number of updates to our Electronic Lab Notebook (ELN). By popular demand, we have a new module being added to the ELN, called Lab Inventory, that completely changes the game and possibilities with this new addition.
Users can now import and track all inventory items used in their experiments and day-to-day operations. This means you can now manage all pieces of the project that are essential to your company, including inventory amounts in stock, supporting documentation for inventory items, tracking equipment, and other actions like printing barcodes, labels, and more.
We also know that adding a new tool to your current workflow, no matter how simple or complex, can be daunting. This is why we're assembling a guide that will provide step-by-step instructions on how to perform some of the most common activities with the Lab Inventory module, as well as providing you with an all-star Support Team to answer any of your technical questions. Let's take a look at what the Lab Inventory module means for LabLog, and what features and benefits are expected from its arrival.
If you found the contents of this article helpful, please share it with colleagues who may also find values in this article. You can also request a free personalized demo to learn more and have your questioned answered regarding ELN best practices and integration with LabLog Inventory Module.
Fast and easy to use
With so many companies making the transition to electronic laboratory notebooks and digital management systems, it's more important than ever to develop a digital strategy for effectively capturing large amounts of data in a streamlined fashion. LabLog's ELN addresses these needs by now incorporating powerful inventory management and searching tools into the system. All structured and unstructured data captured in LabLog can easily be managed across your entire organization for maximum transparency and traceability.
This Lab Inventory module can effectively streamline your organization, tracking, and even ordering of items. A robust yet easy-to-use tool to manage lab inventory is exactly what users have asked for in the past. Overall, we believe the latest inventory workflow has an exceptionally clean interface, making it easy to pick up and use within minutes.
Some of you might use Trello-board type management tools in your current projects. LabLog's inventory module also has a similar style, where users have the ability to visually progress their inventory units through categories or milestones of their experiments and protocols. As pictured below, users can simply click, drag, and drop any inventory item or sample into the different columns for great digital manageability of experiments.
Integrated inventory management
Manage your lab inventory and testing samples more efficiently, keep track of storage locations, and optimize orders using this new module. There's even stock alerts to help you to efficiently monitor your inventory. Centralized ordering processes eliminate duplicate orders, and mapping of locations lets you easily find inventory items in the lab.
This module of LabLog ELN is highly customizable. It includes sections specially designed to organize and track your lab's most important items. Some examples could be validation dates for instruments, expiration date for reagents, unique sample IDs, barcodes, pictures, or even files and unique attachments. Connect all this inventory information directly to your research projects and experiments recorded in the ELN.
View inventory status in real time from anywhere
Track item details and usage history

Keep your lab costs under control – no more duplicate orders
Manage large collections of equipment, reagents and samples
Creating inventory groups and custom inventory columns
Inventories in LabLog are libraries of items you would like to keep track of on a consistent basis. You can manage all kinds of laboratory necessities such as reagents, instruments, and antibodies for example. Users can easily create new inventory groups, such as a group for test samples, which can then be assigned to specific parts of your experiments. In this way, you can track which samples were added, by whom, when and which experiment they were assigned to.
By creating custom columns, you can include inventory and relevant information that is unique to each category or stage. Inventories in LabLog allow your team to be up-to-date with information e.g. which chemicals are available or which samples they can use to perform their experiments.
Save time by using bulk actions: Importing inventory, printing barcodes, and tagging items
There is no need to add inventory items one by one, LabLog allows you to upload entire Excel lists. The integrated import feature is a robust tool that can be used for everything from quick uploads of a few inventory items to gigantic lists of samples. When importing your Excel lists and mapping the fields, we provide 6 default types to categorize inventory items, but you can modify to match the types used in your lab. You can customize the detail fields for the defaults, delete the ones that aren't relevant and create your own new types.
Users can also bulk print labels, barcodes, and QR codes for samples. Once scanned a barcode directs you to the sample's info page with all its details. LabLog's Inventory module has been designed to be mobile friendly in this way. From your mobile device's browser, you can scan QR codes you've generated from the program. Simply select the camera icon near the search window on the Inventory menu to scan.
Once everything is imported into LabLog, your samples can be assigned to specific parts of your experiments i.e. tagged with a unique ID. In this way, you can track which samples were added, by whom, when and which experiment they were assigned to, which takes us to LabLog's bi-directional traceability feature.
Bi-directional traceability
Save money and stay compliant whether tracking the day-to-day experimental work of your research scientists or the lab management processing of samples by lab technicians.
Bi-directional traceability gives you the ability to track an item's chain of custody and activities from both endpoints: either from the item's source or from the end experiment. This feature gives the user multiple options of traceability and expanded management capabilities.
A robust search and a tagging system really provides the organization and platform to find information quickly. From supporting experiment tracking and automated instrument data capture, to lab management, search, visualization and analysis; the LabLog platform is the only solution delivering on the promise of a fully-scalable digital lab.
Item Fields
LabLog's Inventory Module provides a set of standard fields that can be populated with information relevant to items commonly used in a research laboratory. These fields include research specific information as well as generic vendor information and item location.
In addition to the standard fields, LabLog allows you to import any number of custom fields into the system. After import, these fields become part of the system -fully searchable and usable across your team. For example, you can import a set of field related to tissue sample sections or cell culture mutations. These are specialized fields that can be used only within your team. LabLog gives you the ability to integrate these custom fields into the system for future re-use in any number of projects.
Item Locations
LabLog's inventory module allows you to specify a location and sub-location for every item in your lab. For consumables and equipment that are usually stored on a shelf in a room you can specific a room location and a shelf sub-location. This way you know exactly where each item can be found. For items that are stored in a refrigerator or freezer you can specify a the freezer and the box location of the tubes. The sublocation field allows you to create boxes of different dimensions and then add multiple items from the inventory system in the box. Later you can easily find any item by its box location.
Together, the location and sublocation fields allow you to specify the exact location of each item so that you and your co-workers can easily find any item. This, in turn, increases efficiency and reduces waste - saving your laboratory hundreds to thousands of dollars per year.
Labels and barcodes
The LabLog ELN system allows you to link items in your lab notebook for referencing and auditing. You can link experiments, methods, and inventory items to each other bi-directionally as required by Good Laboratory Practice. But what about items that exist outside your Electronic Lab Notebook? LabLog allows you to generate unique IDs, labels, and barcodes that you can attach to any physical item outside the confounds of the ELN system. You can create labels for individual items or bulk print all at once. LabLog allows you to export labels and barcodes to Microsoft Excel for additional formatting and resizing, or print directly to your standard printer or a DYMO label printer.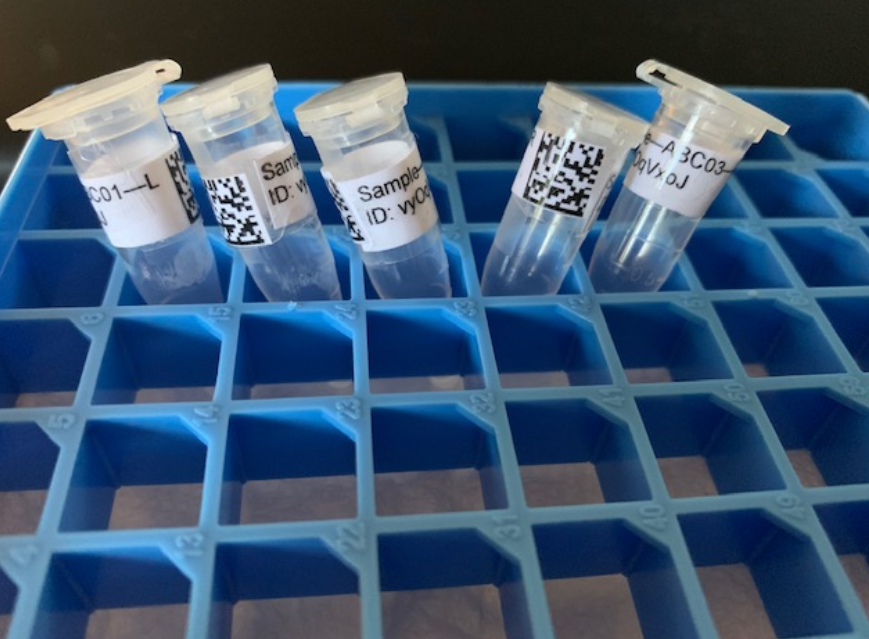 Dynamic Naming Tags
Sometimes you need to split an item into may sub-items, like a cell line that is mutated to create many mutant clones or a tissue sample that is dissected into many sections. In these cases you can use the LabLog Inventory Dynamic Naming Feature to automatically create many items from an original item and quickly assign a unique ID and name to the created items. Using Dynamic Naming Tags allows you to create a template with tags that are replaced by real data. The data replacing the tags can be derived from the information within the original item, or they can be a custom title, random string or random numbers.
This feature is also useful for plasmids and construct cloning. For example, if you need to generate several hundred plasmids for a random mutagenesis study. You can take you original plasmid that is in the inventory system and replicate it into several hundred plasmid items with custom but consistent naming that is unique to each plasmid. The same can be applied to tissue cultures, cell lines, dissected samples, or bacterial/yeast colonies. To see this in action request a demo by clicking on the button at the end of this article.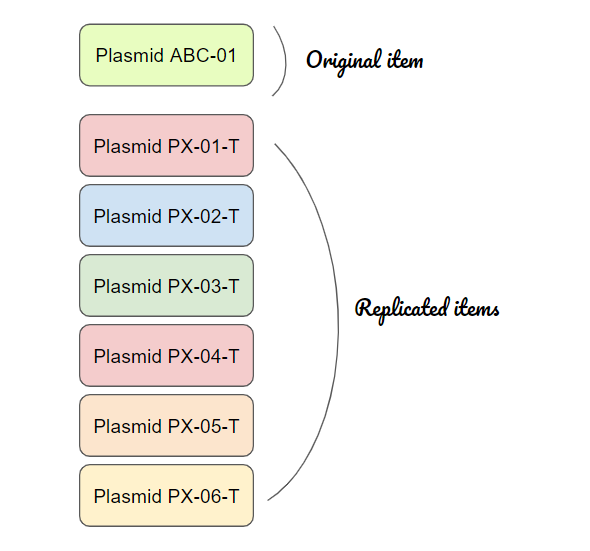 Item Life-Cycle
Traditional inventory systems make it very difficult to track an item's life cycle in a fast paced research environment. At LabLog, we revised how item life-cycle is managed within the system to make it much easier for a research team to track and update and item as it progresses through it's life-cycle. You can now view an item in the context of it's entire life-cycle stages. Each stage is organized as a column. To move the item along to the next stage, simply drag and drop the card for the item onto the appropriate column.
The LabLog ELN inventory system provides you with a few default inventory item categories like antibodies and glassware. You can create your own category of items like Tissues Samples and design the appropriate life-cycle events within each category.
Finally, you can turn on notification on an item or category of items so you are always in the loop with the latest changes in your inventory system. This makes collaboration more efficient and, ultimately, it can reduce waste.
Interested in learning more?
If you have any questions or would like to set up a training session for this new module, please feel free to request a customized demo here.
See For Yourself! Click here to schedule a demo.
Related help articles can be found in the links below:
- Add an Item to Lab Inventory: https://help.labnotebook.app/en/articles/4645631-add-an-item-to-lab-inventory
- Dynamic Naming Tags: https://help.labnotebook.app/en/articles/4606443-dynamic-naming-tags
- Tutorial videos can be found on our YouTube channel: https://www.youtube.com/channel/UCdiOSAYaWp0r-jTrRWf5qdQ
- To keep updated with the latest news and features follow our LinkedIn page: https://www.linkedin.com/company/lablog