If you are in the planning phase of adopting an electronic laboratory notebook (ELN) solution, an essential factor to consider is the method through which different ELN systems store and access your data. Electronic data storage and access methods can make or break successful adoption of an electronic laboratory notebook. In this blog post, we consider different data storage methods currently used by different ELN providers and how different clients can benefit from each unique solution.
Consider the current and future environments in which you will operate an electronic lab notebook. Will you be using the ELN as part of a collaborative team or as an individual? Are you or your team always on the move and need access to your lab notes while offsite? Or, lab notes must be accessed in a controlled environment onsite? Do you currently have a laboratory information management system in your laboratory that needs to integrate with your new lab notebook software? At elucidaid, we work with our clients to carefully assess each of these scenarios. This allows us to provide the ideal data storage solution. For instance, a client who wishes to operate an electronic lab notebook within a highly regulated pharmaceutical QA/QC environment may find it more cost-effective and efficient to leverage their current in-house network capabilities and local servers instead of an internet-based cloud storage system. Allow us to explain what we mean by local/on-premise data storage vs cloud-based data storage.
If it's in the cloud, it must be better, right? Well, maybe, and maybe not.
On-premise lab notebook
On-premises lab data storage are deployed in the traditional manner. Your IT support team acquires servers, installs operating systems and other hardware, but all of that lives within your four walls or the walls of your private data center. Your IT experts are responsible for the on-premise solution. You can outsource maintenance, but your organization still provides the physical security, the electricity, and the balance sheet entries to carry the assets. Most pharmaceutical, academic, and biotech corporations already have on-premise servers for managing emails and data storage. For instance, most Laboratory Informations Management Systems (LIMS) use traditional on-premise data management. Unfortunately, most available Electronic Laboratory Notebook solutions (ELN) do not support on-premise data storage and access. This disconnect can pose a challenge for teams that require deep integration of a new ELN with their existing systems. We developed Elucidaid ELN to overcome this challenge by allowing on-premise data management of your electronic laboratory notes. We achieved this by using hybrid solutions.
Cloud Solutions
Cloud-based electronic laboratory notebooks are accessed over the Internet, as opposed to being on an internal network accessible only over private connections. This can pose a challenge if you are complying with FDA or other regulatory bodies who have stringent requirements for user access levels, data management, and data security. However, if you and your colleagues need to access and share lab notes while on the go, you will need a cloud-based app. There will be extra costs associated with cloud usage, as you will pay for what you use. Most lab notebook apps available on the market have been designed to work only in the cloud because it is cheaper and easier for the developers to sell their product to a wide range of users regardless of the client's operating environment or hardware and operating systems. While this is an easy way to distribute a product, it does not take into consideration the specific needs of a client in the long term. Not every computer in an organization may be connected to the internet or the internet connection may not always be reliable.
The Elucidaid way: A Hybrid Approach
Despite the absence of hybrid options on the market, there's no reason to think the choice between on-premise and cloud-based lab notebook is a mutually exclusive one. You should be able to pick and choose what works best for you. Maybe you want to host your lab notebook data on-premise but leverage cloud services for long-term data storage and lab note sharing across multiple locations. It was for this reasons that we decided to design, for the first time, a solution that allows you to pick and choose between cloud and on-premise services. Our engineers work closely with customers to develop the best solution for them. Click here to request a personalized demo.
Whether you prefer on-premise or cloud-based laboratory notebooks, don't assume you have to choose one to the exclusion of the other. There are times where both may be the better choice, depending on circumstance you can make the right decision.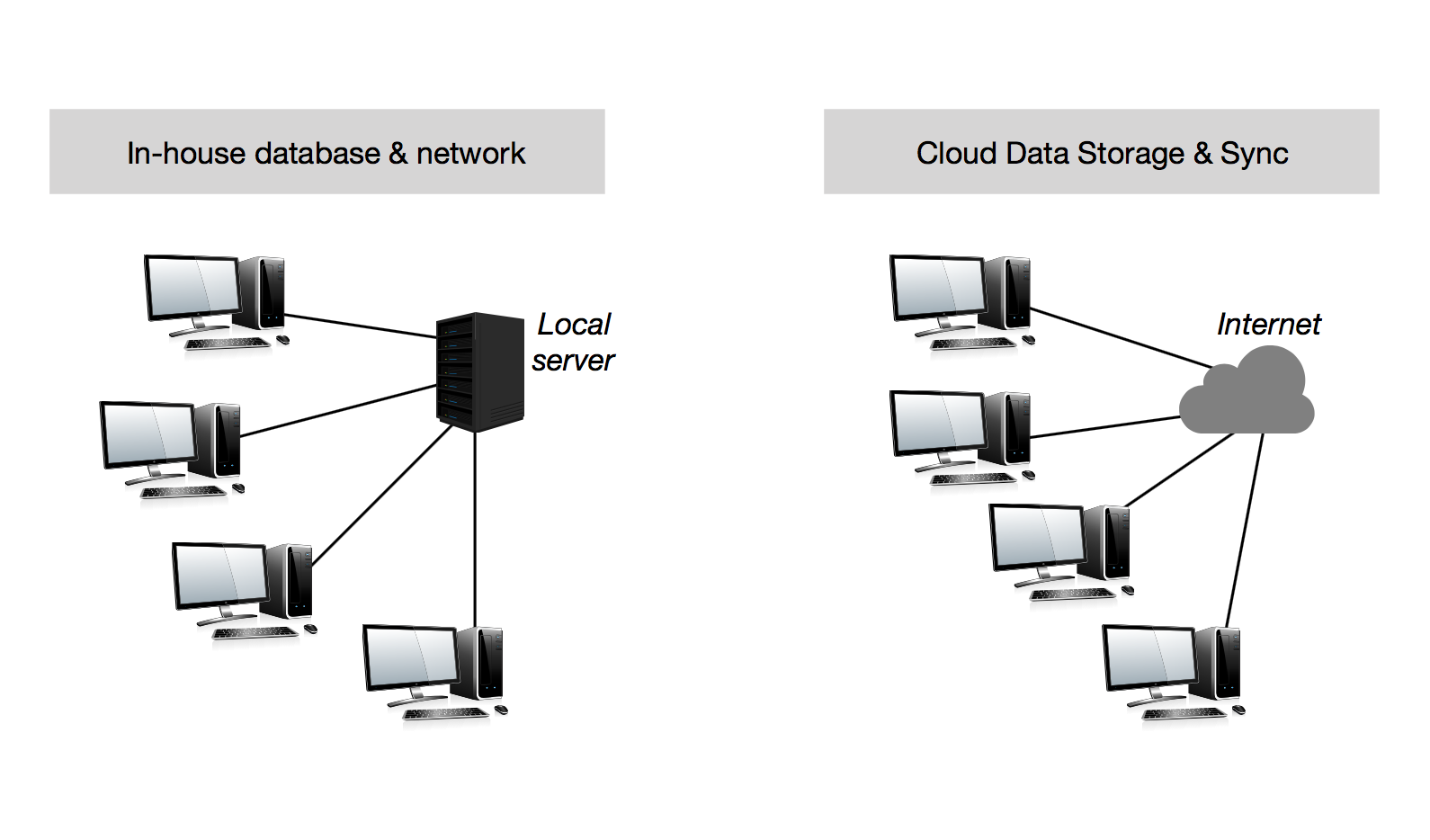 | | | |
| --- | --- | --- |
| | Solution | Winner |
| Expertise | On-premise: In-house IT team and experts needed. | Cloud |
| Support & monitoring | Cloud-services may not monitor what is important to you. | On-Premise |
| Scale | Expensive to perform on-premises. | Cloud |
| Trust | Cloud has risks, and you will need to trust someone else as opposed to yourself on-premises. | On-Premise |
| Compliance | Backups, encryptions, and user access managed by yourself on-premises. | On-Premise |
| Understanding your business | In the cloud, everything is equal. Only you can understand and prioritize your business. | On-Premise |
| Security | You know your people and assets. | On-Premise |
| Customization | You have much more freedom on-premises. | On-Premise |
| Cost | You purchase assets for on-premise data storage. Cloud service is pay-as-you-use. | Cloud |
Finally, let us discuss a few hypothetical scenarios where cloud-based or on-premise lab notebooks may be advantageous.
Example 1. Company XYZ Laboratories is a rapidly growing startup that formed 4 years ago. This company investigates promising therapeutic and diagnostic compounds. Most of their budget is being spent on clinical trials and talent acquisition. A suitable electronic laboratory notebook app can facilitate compliance with FDA regulations, collaborations, and data management. Since this company does not have the budget to invest in a dedicated in-house IT service team and on-premises data servers, a cloud-based electronic laboratory notebook will be a good fit. However, because of time-critical workflows, it is critical for the team to access their data 24/7 with 100% reliability. Therefore, a cloud-backed notebook that can store data on individual user's computers will be a better choice.
Example 2. Dr. V Hardworker recently graduated from grad school and has started a new postdoctoral program at a research university department. Her laboratory operates on a tight budget. Therefore, while a cloud-based notebook may appear as an ideal solution, the cost of storing the large amounts of data generated in the long term can increase dramatically. After talking to her advisor and the head of the department, they decide to utilize the existing IT support team and on-premise network assets to store their electronic laboratory notes on a local server. This brings down the costs associated with cloud storage of data.