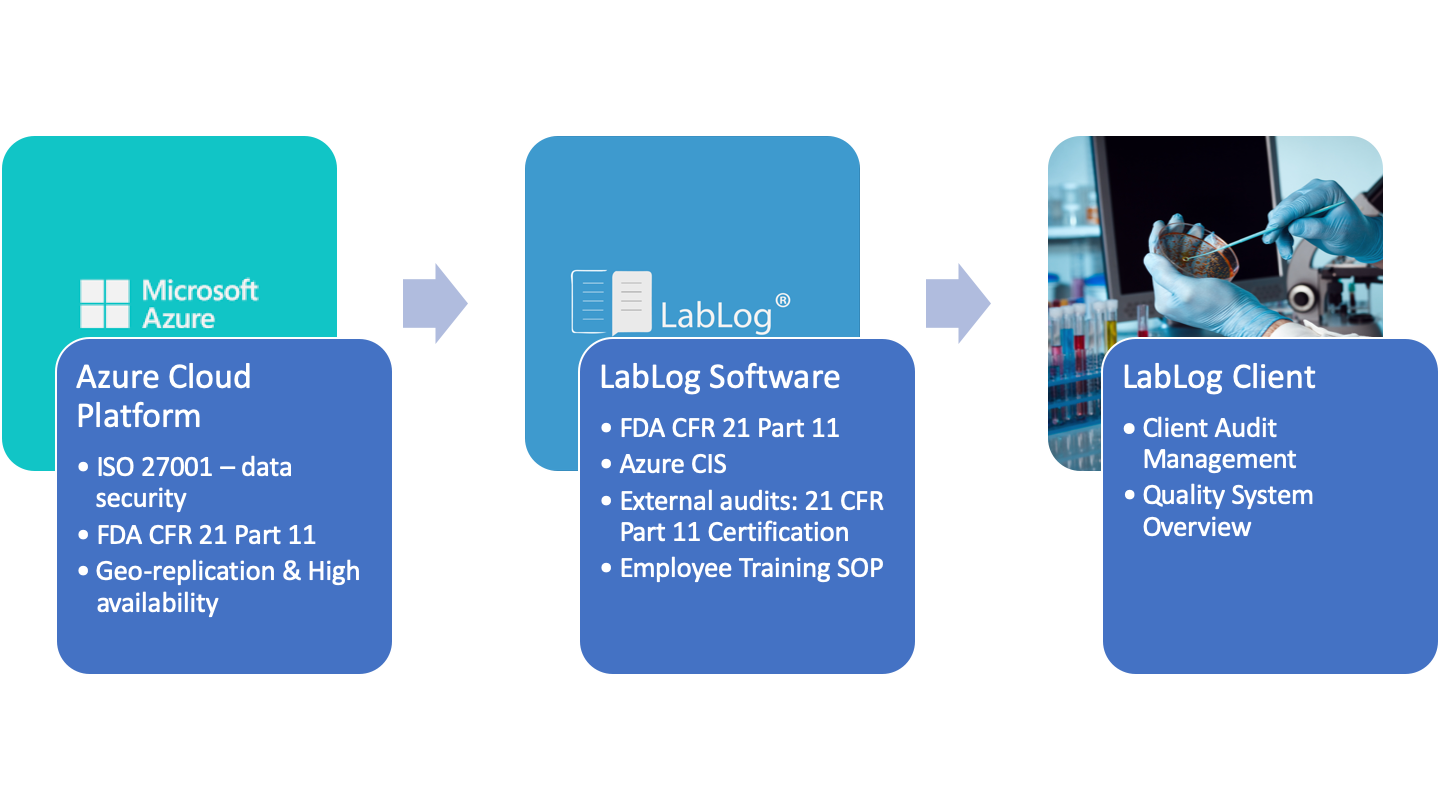 LabLog speeds up FDA applications and compliance audits by integrating an all-in-one tech suite designed for highly regulated environments. Our unique Electronic Laboratory Notebook (ELN) is tailored to meet the needs of biotech and pharma researchers.
There's no two-ways about it. Staying compliant is a challenge, and filing FDA applications is tedious at best. Luckily, there's an app for that. Technology should make our lives easier and our jobs more efficient. We stayed true to these principles while designing LabLog because we want researchers to spend more time in the lab and less time filing paperwork.
Here's how it works.
FDA 21 CFR 11 Compliance Standards
These regulations set standards for electronic records and signatures for the U.S. Food and Drug Administration. It defines IT security and record validation for companies that research and produce drugs and other biologics and devices.
Although their purpose is noble—protecting patients and businesses alike—few people enjoy going through the rigorous process of ensuring FDA 21 CFR 11 compliance. Since computers are indifferent about the tasks to which we set them, we decided to automate as much of this as possible.
Audit Trails
Electronic record audit trails are crucial for both inspections and applications. LabLog simplifies the process of generating and maintaining audit trails by using a two-tier system to capture changes to critical data and log all activity on the platform.
Instead of having to remember to document changes in method or research workings, LabLog does it for us. This reduces human error and saves time. For instance, our ELN software automatically generates secure time-stamps that all labs require for FDA compliance.
We track and store these changes and all other activities on a secure, cloud-backed platform. Microsoft Azure hosts our full stack software, and you can read more about their security features, including FDA compliance, right here. By keeping all your data organized in one place, we streamline the application and compliance process.
System Access Controls
Our ELN app includes access controls that you can customize to fit your unique security needs. We support role-based access controls so that administrators can assign privileges to authorized users.
In our efforts to make everything just a bit easier, we've also pre-configured compliance roles like reviewer and approver. Review and approval are crucial components of FDA 21 CFR 11 compliance, and LabLog empowers users to instantaneously and securely share, review, and approve documents. When we say secure, we mean it—we encrypt all records so that data owners alone have the power to view and assign privileges to their files.